New Year's Eve in the mountains - COLD PARTY ON THE SNOW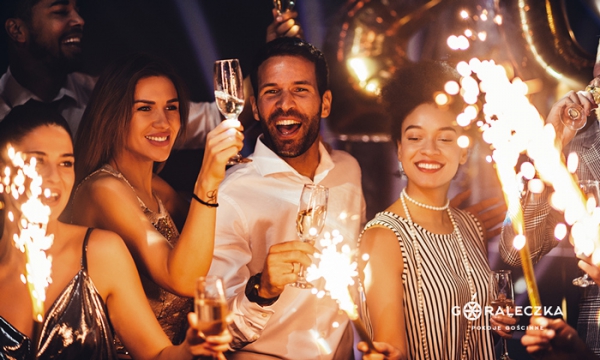 Winter in Podhale may be incredibly attractive – for families with children, couples and those who travel alone. The picturesque landscapes, highlanders' friendliness and omnipresent joy can make you relax and have fun. That is why Podhale is perfect for spending the New Years' Eve!
Welcoming New Year on the top of the mountain, relaxation by the fireplace in the guest house, dance party – no matter the way of spending the New Year's Eve the mountains are a perfect place!
The price includes:
4 days of accommodation
4 buffet breakfasts
4 dinners
30.12 meet and greet with refreshments and highlander live music
31.12 New Year's Eve party with live music, 2 hot dishes, cold plate and a bottle of champagne for a table (6 people)
29.12 or 01.01 firecamp in a hut with roasting sausages and other delicacies
Playground with toys for children
A room for playing billiards and table tennis
Crib and bath for children (after prior booking)
Additional possibilities:
In the period of New Year's Eve we rent rooms for minimum 4 days. Each another day costs PLN 100/adult. The price includes accommodation, breakfast, dinner.
In order to eat dinner, supper or others we encourage to visit the restaurant "Karczma Wiyrchowo" located next to the guest house Góraleczka. On selected days the concerts of a highlander band take place there.
We help organize a sleigh ride with torches, of course if the weather is favourable.
We have attractive discounts for thermas in Podhale, such as Gorący Potok or Termy Chochołowskie
"See another side of Podhale, far away from the crowded streets, bustle and tourists. For your holiday choose a completely new place that will open a window to the view of the tops of the Tatra mountains, green meadows and peaceful atmosphere right in front of you." More about us.
Additional information
minimum 4 days stay
Full board
Children

Children under 3 years old- for free, under 6 years old -50% discount, under 10 years old- 20% discount.

Pets

Pets are allowed only after informing the owner of the property. Additional payments are not required.

Additional information

The condition of making a reservation is to pay 30% of the down payment. The reservation can be cancelled, free of charge, up to 14 days before arrival. If the reservation is cancelled in a shorter period, a down payment of 30% of the total price of the stay will not be refunded.